WiDo® is the heart of newdom®.
It coordinates all modules of the network up to a maximum of 64 units (including 16 sensor interface N009 SNR). 
WiDo® contextually may interface with the control devices:
keypad (N013-PSC) and/or remote control (N012-TSC);
mobile (smartphone, tablet, etc.) and fixed (PC) devices, that use TCP/IP Internet protocols  through the connection to the wireless router.
WiDo® can be connected by cable to buzzers and lights.
product code N001-CRD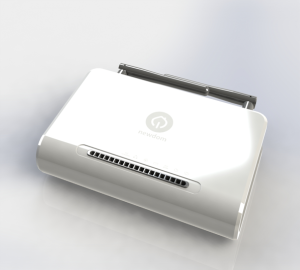 ---
Technical specifications:
| | |
| --- | --- |
| Supply: | 12V 0.8A |
| CPU:  | ARM CortexTM – M3 |
| Memory:  | microSD-card (4GB supplied) |
| Antennas:  | Antenna 2.4 GHz, Antenna GSM-QUAD-BAND  |
| Radio Signal Power: | 10mW |
| Radio Protocol:  | 802.15.4  |
| Radio Frequency:    | 2.4 GHz  |
| Radio range:  | up to 300m in outdoor environments, up to 30m indoors |
| Interfaces: |  1-Ethernet RJ-45, Slot sim GSM, relay contact (N.O.) |
| Dimensions (L x W x H):   | 160mm x 100mm x 30mm |
| Energy consumption:   | max 2.2W |
| Accordance with the IEC:   | EN 60950-1, EN 300 328, EN 301 489   |